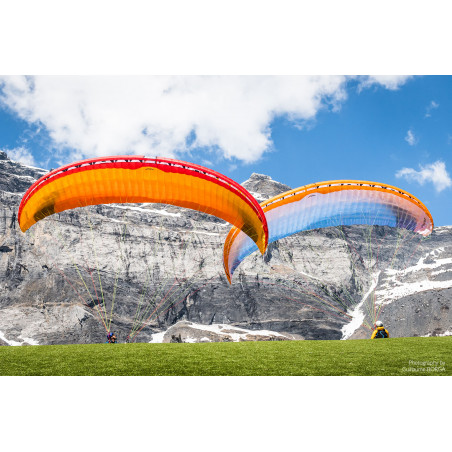  
Muse5
Powerful and relaxing
Muse 5 exhibits balanced canopy behavior over the entire weight range. The neutral movements of the canopy in turbulent air are supported by precisely definable control, which contributes to the safety and pleasant steering of the glider by thermalling. The steering forces are medium and progressively increase. The canopy responds willingly to the steering. Inputs up to 40% of the control range allow easy control in strong thermal cores. Easy inflating and rising of the canopy during takeoff, these are the mandatory "ingredients", which are one of MAC PARA's parameters of the overall glider's safety. Reliable take-offs and landings are a matter of course for MUSE 5.
Muse 5 is a top glider designed for recreational and performance pilots looking for the highest level of safety. Muse 5 is certified in the EN-A category and flight tests have confirmed the extraordinary degree of flight stability. Its flight characteristics and stability provide comfort on board, while excellent performance reveals the possibility of achieving a new personal maximum.
And the most difficult in the end… choice.
Finally, the most difficult part. How to choose the right size and choose the colour design? Regarding the colour; you must decide according to your own preferences, but with the choice of size you can ask your instructor, dealer or MAC PARA for advice.
The MUSE 5 is available in sizes 22, 25, 27, 29, 31, 34. These sizes cover the weight range from 55 kg up to 142 kg.
No customer reviews for the moment.