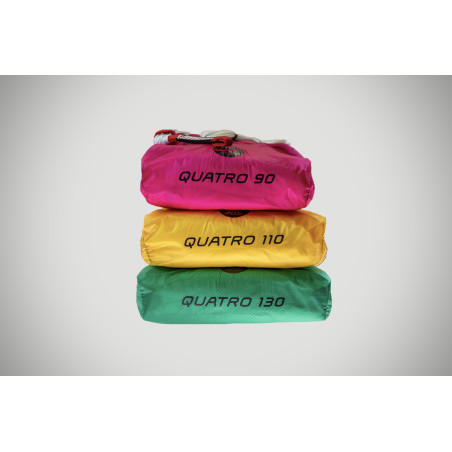  
Rescue system QUATRO110
It is light (only 1.4 kg in size 110). Also, being light means smaller, faster opening and less volume to pack and less weight to carry.
It opens fast because when things happen, the solution must be quick.
It provides low sink rate – depending on the payload; it ranges from 4.9 m/s (QUATRO 90 at maximal load) to 5.1 m/s (QUATRO 110 at maximal load).
The uniquely designed corner vents increase the stability in rough conditions.

QUATRO

 is immediately stable after the deployment which is essential if anything goes wrong just a few meters above the ground.
The main distinctive features are:
All the sizes have identical patterns. That means they all pack the same way and pilots do not have to study different packing techniques for different sizes as it frequently happens.
It uses polyamide lines that are absorbing the shock and make the opening smooth and in a way comfortable which leads to higher safety as the pilot's body does not have to absorb the shock - the lines do it.
The lines are linked to the canopy with traditional loops. Pilots do not have to search for a workshop to replace a line; the line replacement procedure is simple, cheap, fast and reliable - minimum space to make a mistake. A simple technical solution that can save your holiday was very demanding to design and produce to meet the free fall tests criteria, and the small design detail makes the concept unique.
All panels are laser cut to increase the quality of the manufacturing. i.e. precision and also the edges are melted and fixed by the laser beam.
The container with four marked flaps makes the packing easy.
The ultra-light container provides the solution to pack the lines on top of it; that increases the deployment speed and makes the checking the lines easier.

QUATRO

 uses well proven Sky Lite Dyneema risers.
No customer reviews for the moment.